Vidya Venkataramanan, MPH PhD
Postdoctoral Fellow
Ph.D. Gillings School of Global Public Health, UNC Chapel Hill
MPH International Health Boston University School of Public Health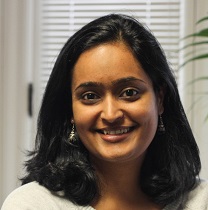 513-652-1521
1819 Hinman Ave Room 106
Education
Ph.D. Gillings School of Global Public Health, UNC Chapel Hill
MPH International Health, Boston University School of Public Health
BA  International Relations, Boston University College of Arts and Sciences
Research Interests
I am interested in understanding how community engagement and participation can improve the implementation of water sanitation and hygiene (WaSH) and environmental sustainability programs. I use qualitative and quantitative methods, particularly drawing on tools from policy and implementation research.
Current research:
Understanding community perceptions and impacts of "green" stormwater management interventions to prevent urban flooding in Chicago.
Understanding perceived value of urban, preserved green spaces to inform education and outreach interventions for urban conservation programs.
Prior research:
Characterizing the implementation of rural, community-led total sanitation (CLTS) programs around Asia, Africa, and the Caribbean.
Professional Appointments
2017-Present - Postdoctoral Fellow, Department of Anthropology and Center for Water Research, Northwestern University, Evanston IL
2010-2012 - Consultant-Infectious Diseases, Public Health Foundation of India, New Delhi, India
2008-2010 - Program Evaluation Specialist, Division of Tuberculosis Elimination, Centers for Disease Control and Prevention, Atlanta GA
Selected Publications
Venkataramanan V, Crocker J, Karon AJ, Bartram J. (2018). "Community-led total sanitation: a systematic review of evidence and its quality." Environmental Health Perspectives. DOI:10.1289/EHP1965 https://ehp.niehs.nih.gov/ehp1965/
Venkataramanan V. (2017). "Review of Rural Sanitation Approaches." Report for WaterAid, UNICEF, and Plan International. Chapel Hill, USA: The Water Institute at UNC. Available: https://washmatters.wateraid.org/publications/rethinking-rural-sanitation
Kakkar M, Chaturvedi S, Saxena VK, Dhole TN, Kumar A, Rogawski ET, Abbas S, Venkataramanan V, Chatterjee P. (2017). "Identifying sources, pathways and risk drivers in ecosystems of Japanese Encephalitis in an epidemic-prone north Indian district." PLoS One 12(5), e0175745.
Crocker J, Shields KF, Venkataramanan V, Saywell D, Bartram J. (2016). "Building capacity for water, sanitation, and hygiene programming: Training evaluation theory applied to CLTS management training in Kenya." Social Science & Medicine, 166, 66–76.
Venkataramanan V. (2016). "CLTS Learning Series: Lessons from CLTS Implementation in Seven Countries." Chapel Hill, USA: The Water Institute at UNC. Available: http://waterinstitute.unc.edu/clts/resource-library/
Marrone M, Venkataramanan V, Goodman M, Hill AC, Jereb J, Mase SAR. (2013). "Surgical interventions for drug‐resistant tuberculosis: a systematic review and meta‐analysis." International Journal of Tuberculosis and Lung Disease. 17(1):6‐16.
Kakkar M, Venkataramanan V, Krishnan S, Chauhan RS, Abbas SS (2012). Moving from Rabies Research to Rabies Control: Lessons from India. PLoS Neglected Tropical Diseases 6(8): e1748.
Back to top