Alemseged Beldados Aleho
Research Associate
Ph.D., Orientale University of Naples, Italy, 2011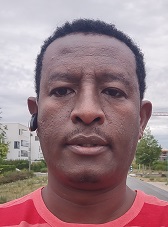 Research Interests
Archaeobotany/Paleoenvironment/ Food Systems
Biography:
Alem Beldados studied archaeoboany (recovery, identification and analysis of macrobotanical remains; caryopses and charcoal from archaeological contexts). His research interest includes understanding of human adaptation strategies in changing environmental conditions during the Pleistocene and Holocene epochs, the transition from hunting-gathering to early food production and ethnoarchaeological study of edible crops in arid, semi-arid and water stressed environments. His research results contributed to understanding the types of crops cultivated by early farming communities in the Horn of Africa and eastern Sudan. In eastern Sudan, he documented one of the oldest morphotypes of wild, cultivated and domesticated varieties of sorghum (Sorghum bicolor). He has also documented the pre-domestication cultivation (PDC) phases of the same plant in eastern and the Horn of Africa. He is currently a Principal Investigator of the Konso Project (Agriculture in dry land eco zones) in Southern Ethiopia.
Selected publications:
Beldados A. 2015. Paleoethnobotanical Study of Ancient Food Crops and the Environmental
Context in Northeast Africa, 6000 B.C. to 200/300 AD, Cambridge Monographs in
African Archaeology, BAR International Series, 2706.
Beldados A and Daniel H, 2017. "Ethno-archaeological Study of Noog (Guizotia abyssinica) in Ethiopia", Ethno-archaeology: Journal of Archaeological, Ethnographic and Experimental Studies, volume 8: 1-22.
Beldados A. 2017. "Archaeobotanical investigation of Charred and desiccated fruit stones and seeds from Late Holocene contexts in Kassala and its environs: window to past ecology and subsistence", Journal of Social Sciences & Humanities, Vol 8:1.
Beldados A. 2017. "Climatic Oscillations and Human Adaption in the Last 4000 Years: Studies from Northeast Sudan and the Northern Horn of Africa", Journal of Ethiopian Studies, Vol 50: 1-26.
Frank Winchell, Michael Brass, Andrea Manzo, Beldados Alemseged, Valentina Perna, Charlene Murphy, Chris Stevens and Dorian Q Fuller 2018. "On the Origin and Dissemination of Domesticated sorghum and Pearl millet across Africa and into India: a view from the Butana Group of the far Eastern Sahel", Journal of African Archaeological Review, Springer Publisher, Vol. 35.
Beldados Alemseged, Andrea Manzo, Chris J. Stevens, Charlene Murphy, and Dorian Q. 2018. "Evidence of Sorghum Cultivation and introduced West African crops during the Second millennium BC from Kassala, East Sudan", in Plants & Humans in the African Past, (D"Andrea C & Hohn A. eds.) Springer Publication.
Beldados Alemseged and Mohamoud Suliman 2019. "Sorghum Paintings from the Meriotic Cemetery of Berber and possible implications for the dispersal of the plant across the Red Sea" in Stories of Globalisation: The Red Sea and the Persian Gulf from Late Prehistory to Early Modernity, Andrea Manzo, Chiara Zazzaro D.J. de Falco (eds.), selected papers of the VII Red Sea project, Brill, Leiden/ Boston.
Beldados Alemseged and Daniel Hiruy 2019. "Questioning pre-domestication cultivation (PDC) of sorghum and noog: ethnobotanical and ethnoarchaeological observations in northeast Sudan and north Ethiopia," in People and Plants in Sub-Saharan Africa and Beyond, Trees, Grasses and Crops, edited by Barbara Eichhorn & Alexa Höh, Bonn 2019.
Götz Ossendorf, Alexander R. Groos, Tobias Bromm, Minassie Girma Tekelemariam, Bruno Glaser, Joséphine Lesur, Joachim Schmidt, NakiAkҫar, Tamrat Bekele, Alemseged Beldados, Sebsebe Demissew, Trhas Hadush Kahsay, Barbara P. Nash, Thomas Nauss, 8 Agazi Negash, Sileshi Nemomissa, Heinz Veit, Zerihun Woldu, Wolfgang Zech, Lars Opgenoorth, Georg Miehe. 2019. "Living on the ice edge: Middle Stone Age foragers in the glaciated Bale Mountains of South Ethiopia."Science, Vol 365, Issue 6453.
Beldados A. 2019. "Millets in Eastern Sudan: an archaeobotanical study," Azania: Archaeological Research in Africa. Vol. 55 No. 1.ISSN: 0067-270X (Print) 1945-5534 (Online) Journal homepage: https://www.tandfonline.com/loi/raza20
Insoll, T., Khalaf, N., MacLean, R., Tait, N., Parsons, H., Gaastra, J., Beldados, A., and Pryor, A. 2020. "Material Cosmopolitanism: The Entrepot of Harlaa as Islamic Gateway to Eastern Ethiopia." Antiquity, 35:1-20.
Beldados A and Tamrat M. 2020. "Towards the Mid-Late Holocene environment of Mochena Borago rock shelter, Wolayita, South Ethiopia" Journal of Social Sciences and Humanities, Vol 16; no. 1.
Pamela Ochungo, Nadia Khalaf, Stefania Merlo, Beldados  Alemseged, Freda Nkirote M"Mbogori, WaktoleTiki and Paul J. Lane. 2022. "Remote Sensing for Biocultural Heritage Preservation in an African Semi-Arid Region: A Case Study of Indigenous Wells in Northern Kenya and Southern Ethiopia", Journal of Remote sensing, 14(2).
Terefe T. and Beldados A. 2022. "Ethno-archaeological and experimental study on agricultural activities of Finger millet (Eleusine coracana) (L.) Gaertn) from North Western Ethiopia," Ethno-archaeology, Journal of Archaeological, Ethnographic and Experimental Studies,
Beldados A., Tarekegn T. and Ossendorf G. 2022. "Post Terminal Pleistocene Reconstruction of Ancient Fire Wood and Human-Environment Relations in the Afro-Alpine Region of the Bale Mountains, Ethiopia: an Anthracological Study," Ethiopian Journal of the Social Sciences and Humanities (EJOSSAH): V. 18, No. 1
Getachew Sinishaw, Tesfaye Zeleke and Alemseged Beldados. 2022. "Exploring Tourism Development Endeavors in and around World Heritage Sites in Ethiopia: Practices at Lower Omo Paleontological and Paleoenvironmental Site, SNNPRS," Ethiopian Journal of Development Research (EJDR), Vol 43:2.
 Beldados Alemseged and  Abel Ruiz-Giralt 2023. "Burning questions: Experiments on the effects of charring on domestic and wild sorghum", Journal of Archaeological Science: Reports, Volume 51, October 2023, 104170.
Catherine D'Andrea, Lynn Welton, Andrea Manzo, Helina S. Woldekiros, Steven A. Brandt, Alemseged Beldados, Elizabeth A. Peterson, Laurie A. Nixon-Darcus, Michela Gaudiello, Shannon R. Wood, Habtamu Mekonnen, Stephen Batiuk, Yemane Meresa, Abel Ruiz-Giralt, Carla Lancelotti, Abebe Mengistu Taffere & Lucas M. Johnson 2023. "The Pre-Aksumite Period: indigenous origins and development in the Horn of Africa", Azania: Archaeological Research in Africa, DOI: 10.1080/0067270X.2023.2236484.
Beldados, A., Ruiz-Giralt, A., Lancelotti, C., Meresa, Y. and D'Andrea, A.C. in Press. "Pre-Aksumite plant husbandry in the Horn of Africa." Vegetation History and Archaeobotany.