Remembering Oswald Werner (1928-2023) by Helen Schwartzman
May 18, 2023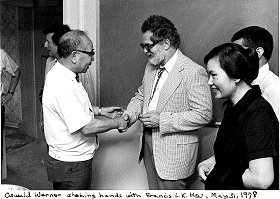 I am so sorry to hear about the passing of Oswald Werner. "Ossy" was a long-time friend, colleague, mentor and professor who I first met as a graduate student in the Department of Anthropology at Northwestern University in September 1968. Ossy joined the department in 1963 and so I came to know him first as a professor and then later as a participant in the creation of the Northwestern University Program in Ethnography and Public Policy ("NUPEPP"). This was a forward-thinking graduate training program, funded by the National Institute of Mental Health, that stressed the value of ethnography in examining community, institutional and policy-making processes and settings. Later, in 1982, when I joined the department as a faculty member Ossy became an important mentor and colleague who was always available to help with whatever issues I had as a new faculty member and also to think together about the practice of ethnography and ways to impart this approach to undergraduate and graduate students. Ossy and June also provided wonderful support to me, and my husband John (also a graduate of the NU Anthropology department), as we became new parents at almost the same time as I began teaching at NU. Our daughter, Lauren (who is now 40), still remembers Ossy teaching her how to pronounce the Navajo word for hello, "Yá'át'ééh."
In 1973 Ossy founded the Northwestern Ethnographic Field School which operated until 1994 and provided opportunities in the summer for undergraduate and graduate anthropology students to participate in and contribute to programs and activities in Latino and Indigenous communities in New Mexico and Arizona. As illustrated by the curriculum which he developed for the field school Ossy was passionate about the need to develop ways to describe cultural systems of knowledge and he was specifically concerned with understanding and documenting Navaho terms for, and conceptions of, illness and disease. This led to the development of what is still an ongoing program, The Navaho Ethno-Medical Encyclopedia Project. Ossy preferred the use of the term "consultants," as opposed to "informants," to describe his relationship to the people with whom he worked. Here he was ahead of his time in his preference for a term that emphasized partnership rather than hierarchy in fieldwork relationships. He was also ahead of his time in terms of proposing in 1984 the various ways that personal computers could be used for recording, managing and analyzing field material. And, he was an early adopter of email using the AOL format (which he never stopped using!).
When Ossy retired in 1998 the Department created the Oswald Werner Prize for Distinguished Honors Thesis in Anthropology to honor the many research, teaching, fieldwork training and administrative contributions that Ossy made as a faculty member for 35 years in the Department. This included serving as Chair from 1978-1983 and 1987-1989; and also, as already mentioned, as Founder and Director of the Northwestern University Ethnographic Field School. This prize specifically recognized Ossy's ardent support of undergraduate research and in July 2021 I sent him an email with the titles of all of the "Ossy Prize" winners from 2010-2021 to illustrate the diversity of topics that his prize had supported over this time period. Ossy appreciated receiving this list and reported that he found it difficult to believe that it had been over twenty years since he retired from Northwestern. I am including this list below as a tribute to Ossy and I am very thankful that he will continue to be remembered and honored by the awarding of this prize every year by the Department.
I feel very fortunate to have benefited from Ossy's many acts of kindness, graciousness, generosity, advice and wisdom to me over the last 55 years. He will be greatly missed but also, importantly, remembered and honored by a network of family, friends and colleagues all over the world. These networks will continue to share Ossy's ideas as well as his humor and also his haikus and our lives and work will most definitely be enhanced because we knew Ossy.
May 17, 2023
Helen B. Schwartzman
Professor Emerita of Anthropology
Northwestern University
---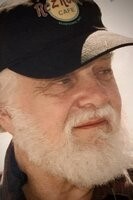 Oswald Werner, who had a joint appointment in Anthropology and Linguistics at Northwestern University for 32 years, died at the age of 95 in Santa Fe NM on March 26, 2023. Known simply as "Ossy" to his family and friends, as well as to generations of colleagues and students, he was a linguistic anthropologist who specialized in Navajo semantics through an approach to the study of cultural knowledge which he called "ethnoscience." His best-known work was the handbook of ethnographic methods titled Systematic Field Work (SAGE, 1987).
Ossy was born in what is now the republic of Slovakia and emigrated to the U.S. after WWII, settling in Syracuse, NY, where he opened a successful photography studio and met his wife, June Travers Werner. He later became a professor at Northwestern University in Evanston, Illinois. There, he founded a summer field school based in New Mexico and Arizona. The Northwestern Ethnographic Field School operated from 1973 to 1994, placing students in Latino and indigenous communities throughout the region. In 1995, Ossy moved with June to Albuquerque New Mexico. After June's death in 2015, Ossy moved to Santa Fe where he continued both his interest in the sciences, social, and physical as well as his passion for photography. Toward the end of his life, he also developed an aptitude for composing haiku.
Ossy had a profound influence on many people throughout his life. His most enduring legacy will be his family, friends, and the many graduate students for whom he served as a mentor, inspiration and friend. His love for the Navajo people (Diné) and Navajo culture is emblematic of the values of understanding and appreciation of others that he modeled throughout his life. Ossy was a inquisitive and upbeat soul who listened to others with genuine interest, thoughtfully reflecting on a wide range of topics from culture to astrophysics. A lifelong lover of wordplay, Ossy was always ready with a groan-worthy pun.
Oswald Werner was preceded in death by his wife June Werner, sister Bella Werner Duffy, and brother Roland Werner. He is survived by his brother Bernard Werner, children Deborah Werner Flannery, Derek Werner, and Rickard Werner, along with three grandchildren and one great-grandchild. In lieu of flowers please send donations to:
Navajo Ethno-Medical Encyclopedia Project
c/o Kayenta Research Associates, Inc.
P. O. Box 1597
Kayenta, AZ 86033
---

Oswald Werner Prize for Distinguished Honors Thesis in Anthropology (Recipients from 2010-2022)
2022
Oswald Werner Prize for Distinguished Honors Thesis in Anthropology:
MADELYN MOY, "Long term effects of hepatitis-B infection on the gut microbiome of captive chimpanzees (Pan
troglodytes)"
2021
Oswald Werner Prize for Distinguished Honors Thesis in Anthropology:
ANNA YANG, "Intersectional Traumas: Resilience and Mental Health in Post-Apartheid South Africa during the
COVID-19 Pandemic"
2020
Oswald Werner Prize for Distinguished Honors Thesis in Anthropology:
ZOE MILLER, "Hungry Thirsty Roots: Imagining and Constructing Ethnic Otherness in 1800s England"
2019
Oswald Werner Prize for Distinguished Honors Thesis in Anthropology:
JULIA SHENKMAN, "Redefining the Borders of Medical Tourism: Navigating Healthcare in an Evolving Local
Knowledge System"
2018
Oswald Werner Prize for Distinguished Honors Thesis in Anthropology:
LUCIA EVALINE PROCOPIO, "Curating Racism: Understanding Field Museum Physical Anthropology from
1893 to 1969"
2017
Oswald Werner Prize for Distinguished Honors Thesis in Anthropology:
DE'SEAN ANTHONY WEBER, "Trauma-Informed Care: Re-contextualizing, Politicizing and De-pathologizing
the Traumatic Black Experience"
2016
Oswald Werner Prize for Distinguished Honor Thesis in Anthropology:
CHIA-PING CHIN, "Are You What You Eat? Investigating Dietary Acculturation among East Asian International
College Students in the United States"
2015
Oswald Werner Prize for Distinguished Honor Thesis in Anthropology:
NICHOLAS FRANCIS WANG, "Sexual Function and Masculinity: How Prostate Cancer Treatment Side Effects
Create Gender Identity Crises among Men in America"
2014
Oswald Werner Prize for Distinguished Honor Thesis in Anthropology:
CATHERINE MARIE ALTHAUS, "Displaying the Dead: Scientific Specimens or Human Beings? A Global
Perspective on Human Remains in Museums"
2013
Oswald Werner Prize for Distinguished Honor Thesis in Anthropology:
MEGHAN ELIZABETH WHITE, "A New 'Multicultural Nationalism:' How One Muslim Women's Organization
in Britain Negotiates Neoliberal Ideas of Self and Citizenship through an Islamic Lens"
2012
Oswald Werner Prize for Distinguished Honor Thesis in Anthropology:
FRANCES ROSEN MCGILL, "The 'Death of the Street': Social Networks and Reimagined Space in Sidi
Momen"
2011
Oswald Werner Prize for Distinguished Honor Thesis in Anthropology:
RACHEL SUNMI KOH, "Who is Authorized to Define a Woman? How Narratives Influence Post-Operative
Gender Identity in Chilean Hysterectomy Patients"
JUNZI SHI, "Tooth Loss and CRP Positively Predict Cardiovascular Disease Risk in Adult Filipino Women"
2010
Oswald Werner Prize for Distinguished Honor Thesis in Anthropology:
LACEY BETTE CARPENTER, ""Household Cloth Production: A Study of Spindle Whorls in Context from the
Classic Period Oaxaca Valley, Mexico"
ELENA REBECCA PINKSY, "Where the Streets Have a Name: Exploring Identity Formation and the
Authenticity of Popular Culture in Buenos Aires' Carnaval"