Charlayne Mitchell
Assistant Professor of Instruction Global Health Studies
PhD, Arizona State University 2021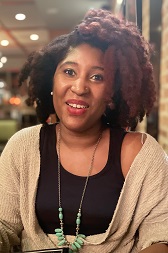 (847) 491-4566
1800 Sherman Ave., Suite 1-200, #107
Research interests
Nutrition, health communication, health equity, community-based participatory research, Black Feminist Thought, decolonizing research methods, unserved population health, obesity, qualitative research.
Biography
Charlayne F. Mitchell (she/her) is a global health social scientist and Visiting Assistant Professor in the Global Health Studies Program at Northwestern University. Mitchell received her bachelor's degree in Human and Environmental Sciences, a Master's degree in Human Nutrition from the University of Arkansas, and her Ph.D. in Global Health from Arizona State University. She has done interdisciplinary research at the intersections of nutrition, qualitative research, and health inequities. 
Mitchell has conducted research on the aspects of nutritional interventions, energy metabolism, energy expenditure, health narratives, health equity, decolonizing research methods.  She has conducted research among children, adolescent populations, and Black individuals living in the southern the U.S.  Mitchell's work has shown how attending to the stories and experiences from those underrepresented can serve as an important tool in increasing health equity. Additionally, her work has explored research methods that encourages PIs to "step back and let the community lead." Leveraging a community's ways of knowing and health praxis transforms and interrupts data collection opening up the space for health interventions. Mitchell's scholarship and teaching is directly influenced by research approaches that use an ethic of care praxis when working with communities centered at the margins. These include but are not limited to Black Feminist Thought, Community-based Participatory Research, and Critical Race Theory.  There is a scarcity of research that brings the voices and experiences of communities living through health disparities to the forefront. Mitchell has published articles broadly in methodological, nutritional, psychological, and social science journals including Field Methods and Psychology of Men & Masculinity. Her work has been acknowledged in grants supported by the National Science Foundation.
Course taught
Special Topics in Global Health: (Re)mixing Qualitative Methods
Special Topics in Global Health: Silent but Loud: Navigating Health in a Cultural, Food, Poverty, and Environmental Caste
Recent publications
Mitchell, Charlayne, Ersula J. Ore, Amber Wutich, Cindi SturtzSreetharan, Alexandra Brewis, Olga I. Davis. 2022. Sister-girl Talk: A Community-based Method for Group Interviewing & Analysis. Field Methods Journal Vol 34(2), in press.
Mitchell, Charlayne, Forthcoming book chapter.  Summoning our truths: Sister-girl Talk a Method for Group Interviewing Black Women. The Handbook of Teaching Qualitative and Mixed Research Methods: A Step-by-Step Guide for Instructors. Routledge.
SturtzSreetharan, Cindi, Gina Agostini, Amber Wutich, Charlayne Mitchell, Olivia Rines, Brittany Romanello, Alexandra Brewis. 2019.   "I need to lose some weight": Masculinity and Body Image as Negotiated Through Fat Talk. Psychology of Men & Masculinity 21(1), 148–161.
Baum, J.I., Gaines, B.L., Kubas, G.,
 

Mitchell, C.F.,

 

Russell, S.L. 2017.

 

Educational Nutrition Messaging At Breakfast Reduces Snack Intake and Influences Snack Preferences In adult Men and Women.

 

Appetite Eating and Drinking Journal

 

Vol. 177 (67-73).
Baum, J.I., Gaines, B.L., Kubas,
 

G.,

 

Mitchell, C.F., Russell, S. 2017.

 

Education Messaging at Breakfast, Not Protein Source, Influences Appetite Response, Food Preferences, and Food Intake in Men and Women

. 

Federation of American Societies for Experimental Biology Vol. 31 (957)