Emrah Yıldız
Crown Junior Chair in Middle East Studies & Assistant Professor of Anthropology
PhD Harvard University 2016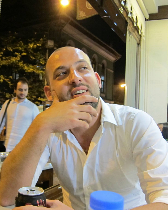 847 467-6254
1819 Hinman Av, # 103
Emrah Yıldız is Crown Junior Chair in Middle East Studies and Assistant Professor of Anthropology and Middle East & North African (MENA) Studies at Northwestern University. He is a cultural anthropologist, studying routes of religious, commercial and political mobility between Iran, Turkey and Syria. His research lies at the intersection of historiography and ethnography of borders and their states; anthropology of ritual, pilgrimage and saint visitation in Islam; and the study of currencies and contraband commerce in political economy.  
His first book project, Iranian Pilgrims in Traffic: Religion, Economy and Territory across Borders, synthesizes these areas of scholarship to chronicle the pathways of a ziyarat (saint visitation) route. Often referred to as Hajj-e Fuqara' (pilgrimage of the poor) in Iran, this route has shuttled Iranian pilgrims as well as contraband goods such as oil, gold, sugar and tobacco, among bus stations in Iran, informal bazaars in Turkey, and the Sayyida Zaynab shrine in Syria. The book develops the argument that ritual along the ziyarat route could be productively understood as a traffic built out of multiple cycles of religious, political and economic exchange across modern state borders. When studied ethnographically and historically that trans-border traffic—spun by pilgrims from Iran, Antep bazaar merchants, borderland contraband couriers and Damascene shrine heirs over four decades—provides fertile grounds to analyze the uneven historicity and sociality of ziyarat as an Islamic ritual. Yıldız's dissertation that serves as the basis for the book received the 2017 Malcolm H. Kerr Award in the Social Sciences from the Middle East Studies Association. The book manuscript, an Atelier 2019 finalist, is under contract with the University of California Press.
Yıldız holds a PhD in Social Anthropology and Middle East Studies from Harvard University. A former DAAD Research Fellow at Institut für Europäische Ethnologie—Humboldt Universität zu Berlin, he received his BA (Anthropology & German Studies) and his MA (Cultural Anthropology) from Wesleyan University. He has been a visiting researcher at Boğaziçi and New York Universities, and completed a short-term residency with marra.tein—Beirut, Lebanon. The Wenner-Gren Foundation, Die Zeit Stiftung Bucerius Fellowship in Migration Studies, Cora Du Bois Charitable Trust, and Harvard's Center for Middle Eastern Studies have funded his training, research and writing. Buffett Institute for Global Affairs and the Keyman Modern Turkish Studies program supported his writing and new lines of research at Northwestern. Yıldız co-edited, with Anthony Alessandrini and Nazan Üstündag, the collection "Resistance Everywhere:" The Gezi Protests and Dissident Visions of Turkey (2014). His most recent publications include a Cultural Anthropology essay (2020), "Nested (In)securities: Commodity and Currency Circuits in an Iran under Sanctions." His other academic and short-form writings could be found here.
Yıldız's research on trans-border mobility and its routes spans studies of gender and sexuality in the Middle East. He is currently at work on a project that examines the journeys of LGBT and queer Iranian asylum-seekers through the United Nations High Commission for Refugees in Turkey. Following up on previous research conducted in Iran and Turkey, thanks to The Sexualities Project (SPAN) funding, Yıldız has extended his multi-sided study of the asylum-seeking journey into locales of resettlement in Germany and the United States.
At Northwestern Yıldız has held fellowships with the Judd A. and Marjorie Weinberg College of Arts & Sciences and the Alice Kaplan Institute for the Humanities, and taught across anthropology, Middle East and North African studies, religious studies and gender & sexuality studies.
Recent courses taught 
Traveling while Muslim: Islam, Mobility and Security after 9/11 (Kaplan Institute Seminar)
Producing Territory: People, Commodities and Values on the Move (Graduate Seminar)
Interpreting Iran: Revolution, Reform, and Revolt (Graduate Seminar)
Paper Mobilities, Mobile Papers: Passports, Visas, and Cash in the Global Ecumene (First-year Seminar)
Porous Borders? Geography, Power and Techniques of Movement (Undergraduate Seminar)
Locating the Middle East and North Africa: Space, Power and Mobility in the Making of a Region (MENA Graduate Proseminar)
Migrant Sexualities, Queer Travelers: Trans-locations (Graduate Seminar)
Breaking the Law in the Middle East: The Illicit (Undergraduate Seminar)
Shady Business: Informal Economies in Contemporary Capitalism (Undergraduate Seminar)
Back to top