Mark Hauser
Associate Professor
PhD Syracuse University 2001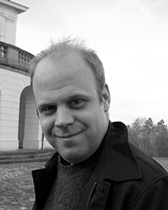 847-467-1648
1812 Hinman, #205
Research and teaching interests
Historical Archaeology/Anthropology; Empires and Slavery; African Diaspora; Colonial Landscapes; Geographic Information Systems; Archaeological Survey; Materials Analysis
Biography
Mark is
an historical
archaeologist who specializes in materiality, slavery
and
inequality. These key themes intersect in the seventeenth, eighteenth and nineteenth centuries Atlantic and Indian Oceans and form a foundation
on
his research on the African Diaspora and Colonial Contexts. As an archaeologist who studies how people adapt to landscapes of inequality and contribute to those landscapes in material ways he employs ethnohistorical, archaeological, and
archaeometric
approaches. His current fieldwork is based in the Eastern Caribbean and has focused on two communities in Dominica- Portsmouth
and
Soufriere. He also has research interests in 18
th
century Southern India and 19
th
century North America.
He completed his PhD at Syracuse University in 2001. Research conducted for this dissertation formed the nucleus of his book An Archaeology of Black Markets.  In this book I explore the ways in which everyday internal and informal trade circumvented plantation boundaries and show how the economic activities of free and enslaved peoples shaped everyday life and the material world.  It was the first systematic study of pottery made and used by slaves to use compositional analysis to understand both production and distribution networks of slaves.     
His second book manuscript, based on research in Dominica, is tentatively entitled, "Mapping Water on Nature's Island: Archaeologies of Enslavement and Environment in Dominica (1720-1840)".  This book is based on ten years of archaeological and historial research conducted with the aid of the National Science Foundation and the Wenner-Gren Foundation.  It compares the community histories and social lives of enslaved laborers on two eighteenth century sugar plantations in Dominica.  In this book he maps the changing boundaries of nature and culture during the apogee of the Atlantic Slave Trade.  He uses mapping here in both figurative and literal ways.  On the one hand he'maps' the distance between colonizing discourses and everyday practice to reveal the predicaments brought about by changes in the land.  He also physically maps objects, landscapes features, and eye witness testimony to reveal how enslaved labaorers resolved these predicaments. 
Mark's new research examines how the Indian and Atlantic Oceans were connected in the early modern period through the lens of Danish colonialism.  This work builds on his early archaeological research in the Danish West Indies.  With the aid of the American Institute of Indian Studies, Mark has begun a regional landscape survey in the former Danish colonial enclave of Tranquebar in Tamil Nadu, India.
Recent Publications
Hauser, Mark W.
2018 "Huge Oceans, Small Comparisons: Danish Forts and their enclaves in the Indian and Atlantic Oceans." In Power, Political Economy, and Historical Landscapes of the Modern World: Interdisciplinary Perspectives"  Binghamton University Press. Edited by C. R. Decorse 
Hauser, Mark W., W. Battle-Baptiste, K. Ozawa,  B. Voss, R. McGuire, R. Bernbeck, S. Pollock, S. Atalay, Uzma Rizvi, C. Hernandez  2018 "Vital Topics Forum, Archaeology As Bearing Witness". American Anthropologist 120 (3): 535-548. 
Oas, Sarah E., and Mark W. Hauser.  2018 "The Political Ecology of Plantations from the Ground Up." Environmental Archaeology 23(1): 4-12.
Hauser, Mark W.  2017 "The Political Ecology of Water and Enslavement: Waterways in Eighteenth-Century Caribbean Plantations" Current Anthropology 58(2)227-256
Hauser, Mark W.
Accepted. "The Political Ecology of Water and Enslavement: Waterways in the Eighteenth Century Caribbean" submitted to Current Anthropology Dec 31 2015; accepted April 14, 2016
Wilson, Brian and Mark W. Hauser
Accepted Towards a South Asian Historical Archaeology (submitted to Historical Archaeology Sep 9 2015)
Kathleen Morrison and Hauser, Mark W.
2015 "Risky business: rice and inter-colonial dependencies in the Indian and Atlantic Oceans." Atlantic Studies 12 (3): 371-392.
Hauser, Mark W.
2015 "The Infrastructure of Nature's Island: Settlements, Networks and Economy of Two Plantations in Colonial Dominica." International Journal of Historical Archaeology 19(3) : 601-622.
Hauser, Mark W. 
2014 Land, Labor and Things: Surplus in a New West Indian Colony (1763-1807). Economic Anthropology 1(1): 49-65.
Agbe-Davies, Anna, Jillian E. Galle, Mark W. Hauser, Fraser D. Neiman
2013 "Teaching with Digital Archaeological Data: A Research Archive in the University Classroom" Journal of Archaeological Method and Theory July 16, 2012
Hauser, Mark W.
2012 "Year in Review: Messy Data, Ordered Questions." American Anthropologist 114(2): 184-195
Hauser, Mark W. and Douglas V. Armstrong
2012 "Archaeology of Not Being Governed:  A Counterpoint to a History of Settlement of Two Colonies in the Eastern Caribbean." Journal of Social Archaeology 12(3).
Hauser, Mark W.
2011  "Routes and Roots Of Empire: Pots, Power, and Slavery in the 18th-Century British Caribbean." American Anthropologist 113(3): 431-447.
Back to top