Mark Hauser
Professor
PhD Syracuse University 2001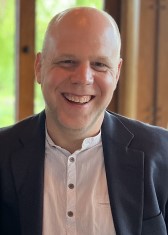 847-467-1648
1810 Hinman, #210
Research and teaching interests
Historical Archaeology; Economic Anthropology, Enslavement and Environment, Colonialism and Landscapes, Caribbean; South India and the Indian Ocean, GIS and Remote Sensing, Archaeological Survey; Compositional Analysis
Biography
Mark is an historical archaeologist who specializes in materiality, slavery and inequality. These key themes intersect in the seventeenth, eighteenth and nineteenth centuries Atlantic and Indian Oceans and form a foundation on his research on the African Diaspora and Colonial Contexts. His research uses slavery's archaeological record to map alternative geographies of the 18th and 19th-century world. His first book An Archaeology of Black Markets (Florida 2008), maps the informal economies of enslaved people in Jamaica through the utilitarian pottery they made and with which they furnished their houses to trace the cultural and political registers of their everyday lives.  His most recent book, Mapping water in Dominica (Washington 2021) examines the archaeological record of water, its management, and everyday uses during the island's short lived 'sugar revolution,' to map the ecological legacies of colonialism and slavery in the Caribbean. His current research on the labor histories and social lives of two communities in the Caribbean and South India, explores a 'prehistory' of the global south by mapping the movement of people, objects, and ideas between two oceans.
 He teaches on a range of topics including:
            Mapping People Place and Space
            The Global Life of Things
            Caribbean Pasts: Archaeological and Historical Approaches
            Historical Archaeology
            Archaeological Survey
            Fantastic Archaeology: Science and Pseudoscience about the past
Recent Publications 
Hauser, Mark W. V. Selvakumar
2021 Gardens of the Coromandel Coast: Landscape Considerations of Commercial Agriculture in Tamil Nadu, South India. International Journal of Historical Archaeology, 1-29. 
Hauser, Mark W.
2021 Mapping Water on Dominica: Archaeologies of Water and Enslavement under Colonialism. Seattle: University of Washington Press 
Hauser M. W. and D. Wallman (eds.)
2020 Archaeology in Dominica: Everyday Ecologies and Economies at Morne Patate. University Press of Florida: Gainesville. 
Hauser, M.W., Armstrong, D.V., Wallman, D., Kelly, K.G. and Honychurch, L.,
"Where strangers met: evidence for early commerce at LaSoye Point, Dominica." Antiquity, 93(371).
 Hauser, Mark W. and Paul Crask
2018 Bois Cotlette. Roseau: Dominica Geographic
Hauser, Mark W.
2018 "Huge Oceans, Small Comparisons: Danish Forts and their enclaves in the Indian and Atlantic Oceans." In Power, Political Economy, and Historical Landscapes of the Modern World: Interdisciplinary Perspectives"  Pp 349-374. C. R. DeCorse (ed). Binghamton NY: Binghamton University Press.  
Oas, Sarah E., and Mark W. Hauser.
2018 "The Political Ecology of Plantations from the Ground Up." Environmental Archaeology 23(1): 4-12. 
Hauser, Mark W., W. Battle-Baptiste, K. Ozawa,  B. Voss, R. McGuire, R. Bernbeck, S. Pollock, S. Atalay, Uzma Rizvi, C. Hernandez
2018 "Vital Topics Forum, Archaeology as Bearing Witness". American Anthropologist. 120 (3): 535-548.
Hauser, Mark W.
"A Political Ecology of Water and Enslavement: Water Ways in Eighteenth-Century Caribbean Plantations" Current Anthropology 58(2)227-256
Armstrong, Alan and Mark W. Hauser
2017 Cotton Estates and Cotton Craft Production in the Colonial Era Caribbean. Archaeology, Consumption, and the Road to Modernity, pp 214-233. Barbara Heath and Lori Lee (eds.), London: Routledge. 
Wilson, Brian, and Mark W Hauser
"Toward a South Asian Historical Archaeology". Historical Archaeology 50 (4):7-21.