Katherine E. Hoffman
Associate Professor, Anthropology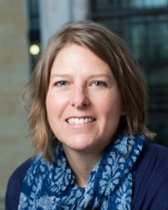 847-491-4565
1810 Hinman Avenue, #206
Research and teaching interests
Language / Expressive Culture, Ethnicity / Indigenism, Language Ideologies, Language Shift and Endangerment, Law, Gender, Migration, Rural-Urban Relations, French Colonialism, Imazighen (Berbers), Morocco / North Africa, France
Biography
Katherine E. Hoffman is a linguistic, sociocultural, and legal anthropologist, who specializes in the relationship between expressive culture, ethnicity, law, history, and political economy.  Her research explores this nexus primarily in North Africa, and especially Morocco, from the late 19th c. to the present, particularly as it has been shaped by the processes of French colonialism, anti-imperialism, nationalism, and postnationalism.  Her book We Share Walls: Language, Land and Gender in Berber Morocco (2008, Wiley-Blackwell) is an ethnographic account of the ways in which political economy and migration have shaped rural ethnolinguistic repertoires in both talk and song, and in Arabic and Tashelhit Berber languages, among the Ishelhin Berbers of southwestern Morocco. 
A second book currently being drafted, Mirror of the Soul: Language, Islam, and Law in French Native Policy of Morocco (1912-1956), considers the language ideologies underpinning French colonial administration of rural Morocco.  It argues that notions about the inherent interrelationship between language, law, religion and morality had consequences for the development of French Native Policy (politique indigène), Moroccan nationalism, and more recently, contemporary struggles around Amazigh (Berber) linguistic and cultural rights. Of particular interest in this project are the Berber customary courts (tribunaux coutumiers) that not only elicited nationalist polemic but also generated massive amounts of labor from Protectorate officials and their North African employees.  Relevant to this project is Dr. Hoffman's participation in the working group, "Citoyennetés locales au Maghreb: Les perspectives de la longue durée (Local citizenships in North Africa: Long-term perspectives)," directed by Isabelle Grangaud at the Institut de Recherche sur le Maghreb Contemporain (IRMC) and the Centre National de la Recherché Scientifique (CNRS), in Tunis.
With historian Susan Gilson Miller of Harvard University, Hoffman is co-editor of the interdisciplinary volume Berbers and Others: Beyond Tribe and Nation in the Maghrib (Indiana University Press, 2010).
Hoffman's further research on southern Tunisia and Western Libya, with NSF funding, is called Revolution's Refugees.  It examines the role of ethnicity in the integration of populations displaced by political violence into the country of first asylum, as well as the ways in which transnational ethnic identity may facilitate refugee assimilation in the Global South.  Simultaneously, the project considers the effects of the Arab Spring revolutions on minority populations, taking as a case study the Amazigh (Berber) populations of Libya and Tunisia.  The project focuses on the women and the elderly who are central, albeit overlooked, actors in the construction and maintenance of local and transnational ethnic identities.  The informal settlement of Libyan refugees from the Nafusa mountains and Nalut into Tunisia – in rural community-volunteered housing and private Tunisian homes – meant that laypeople rather than aid workers managed much of the integration of this displaced population.  Refugees from western Libya and their southern Tunisian hosts were Imazighen (Berbers), speaking the Tamazight language and sharing both customs and longstanding discrimination by their respective states.  
Regimes of Care: Islamic Guardianship and the Transnational Adoption of Muslim Children is Dr. Hoffman's most recent research, which looks at the transnational migration of Muslim children to Europe and the United States, whether through adoption or war, and especially the regimes of care available to abandoned and orphaned Muslim children taken into kafala arrangements (Islamic guardianship). This project considers human rights frameworks, conflicts in international private law, and political-legal ideologies pertaining to the Western states that become home to these children. Additionally, it considers the ways in which state and transnational entities (especially the European Court of Human Rights and the United Nations) conceive of and produce discourse around intentional families formed through processes other than biological procreation between different-sex parents.  This project links up to research on the state monitoring of surrogacy, sperm donation, same-sex marriage and adoption, and monoparental family-formation. During the 2016-2017 academic year, Dr. Hoffman is developing this project while on leave from Northwestern with a fellowship from the Institute for Advanced Study in Lyon (the Collegium de Lyon), where she is affiliated with the Université de Lyon through its Center for Critical Legal Studies. She is a Morocco expert with the Working Group on Child Law in Muslim Countries, organized by the Max Planck Institute for Comparative and International Private Law in Hamburg, Germany.
Dr. Hoffman is particularly keen to advise graduate students whose interests bring together language and law, regardless of world region.
Hoffman has been awarded the American Council of Learned Societies' Charles A. Ryskamp Research Fellowship and a National Endowment for the Humanities Faculty Fellowship, and has received fellowships from the National Science Foundation's RAPID program, the Wenner-Gren Foundation, two divisions of the Social Science Research Council, the Fulbright-IIE, and the American Institute for Maghrib Studies.  In Spring 2007, Hoffman was a resident fellow at the Camargo Foundation in Cassis, France, and during the 2011-12 academic year, she was a fellow at Northwestern's Kaplan Institute for the Humanities. She was awarded a EURIAS Senior Fellowship to spend the 2012-13 academic year at the Institute for Advanced Study in Nantes. She holds a fellowship with the Institute for Advanced Study in Lyon (the Collegium) for the 2016-2017 academic year. She has served on the editorial boards of the Oxford Bibliographies in Anthropology, the Journal of Linguistic Anthropology and American Anthropologist. Hoffman conducts field research in Tashelhit Berber, Moroccan Arabic, Modern Standard Arabic, and French. 
In addition to her scholarly work, since the early 1990s, Hoffman has worked extensively on visual and print media projects, and responsible tourism, to increase understanding of Muslim populations.  She has consulted for National Geographic Magazine and served as the expert on National Geographic Expedition's Moroccan Odyssey.  She has also researched for numerous documentary film projects in Morocco and in Washington, DC.  She authored the Introduction and several chapters of the Fodor's Morocco first travel guide edition (New York: Random House, 2000).  Applying her ethnographic concerns with gender and minority language to governmental policy, Hoffman consulted on a project to raise rural Moroccan girls' completion of primary school, an initiative co-funded by AMIDEAST and the Moroccan Ministry of Education, in which she advocated for greater attention to native language in the classroom as well as basic sanitary facilities, both crucial to parental choices to remove girls from primary school.  Whether in policy evaluation, popular media, or scholarly work, Hoffman is committed to demonstrating the continued relevance—even centrality—of rural life to local, national, and global shifts.
Courses
490      Law and Human Rights
496      Anthropology of Space and Place (w/ Dr. Cynthia Robin Rivera)
401-4   Logic of Inquiry: Linguistic Anthropology
389      Ethnographic Methods and Analysis
378      Law, Culture and Language
361      Talk as Social Action
330      Peoples of the World: Performance and Power in N. Africa and the Middle East
330      Peoples of the World: Ethnography of North Africa
215      Culture through Language
101-6   Endangered Languages and Indigenous People
Selected publications
(2017 in press) Navigating the Border: Amazigh Minorities from Libya in Tunisia during the 2011-2012 Uprisings. Mobility and Minorities in Africa (March 2017): 145-167.
(2015) Pratiques juridiques et idéologies langagières dans un tribunal coutumier non officiellement multilingue (Judicial Practices and Language Ideologies in an Unofficially Multilingual Court). Special issue, "Diversité linguistique, transformations sociales et économie politique (Linguistic Diversity, Social Transformations and Political Economy)." Anthropologies et Societés 39(3):29-50.
(2013d) Berbers, Borders, and Breakdown in the 2011 Libyan Civil War. New Directions in Middle East and North African Studies: Working Papers from Northwestern. Ed. B. Edwards. Doha: Northwestern-Qatar.
(2013c)  Le droit coutumier amazigh au Maroc (Amazigh Customary Law in Morocco). Perspectives 9:3-5.
(2013b) Le serment, les marabouts et la mosquée dans le droit coutumier berbère au Maroc (Oaths, Saints, and the Mosque in Berber Customary Law in Morocco). Les Justices de l'Invisible (Invisible Justice). Eds. R. Verdier, N. Kalnoky and S. Kerneis.  Paris: L'Harmattan, 373-390.
(2013a) Suspicion, Secrecy, and Uncomfortable Negotiations over Knowledge Production. Encountering Morocco. Eds. R. Newcomb and D. Crawford.  Bloomington: Indiana University Press
(2012) Local Hosting and Transnational Identity. Special Issue, "North Africa and Displacement 2011-2012," Forced Migration Review 39: 12-13.
 (2010) Berber Law by French Means: Customary Courts in the Moroccan Hinterlands, 1930-1956. Comparative Studies in Society and History 52(4): 851-880
 (2009) Culture as Text: Hazards and Possibilities of Geertz's Literary/Literacy Metaphor. Special issue, Islam Re-Observed: Clifford Geertz in Morocco.  Journal of North African Studies 14(3-4):417-430
(2008) Purity and Contamination: Language Ideologies in French Colonial Native Policy in Morocco. Comparative Studies in Society and History 50(3):724-752
 (2006) Berber Language Ideologies, Maintenance, and Contraction: Gendered Variation in the Indigenous Margins of Morocco. Language & Communication 26/2:144-167.
(2002)  Moving and Dwelling: Building the Moroccan Ashelhi Homeland.  American Ethnologist 29(4):928-962.
(2002)  Generational Change in Berber Women's Song of the Anti-Atlas Mountains, Morocco. Ethnomusicology 46(3):510-540.
(2000)  Administering Identities: State Decentralization and Local Identification in Morocco. Journal of North African Studies 5(3):185-200.
 (2000)  (with David Crawford)  Essentially Amazigh: Urban Berbers and the Global Village. The Arab-Islamic World: Multidisciplinary Approaches.  Kevin Lacey, ed. New York: Peter Lang, 117-133.