Chris Kuzawa
John D. MacArthur Professor & Faculty Fellow at the Institute for Policy Research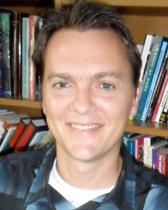 847-467-4302
1810 Hinman Avenue, #201
Research and teaching interests
Developmental origins of adult disease and function; Evolutionary theory and human life history, Growth and development, brain evolution, reproductive ecology, statistics, cardiovascular disease in developing nations.
Biography
I and my students and collaborators use principles from anthropology and evolutionary biology to gain insights into the biological and health impacts of human developmental plasticity. My primary field research is conducted in Cebu, the Philippines, where we work with a large birth cohort study that enrolled more than 3,000 pregnant women in 1983 and has since followed their offspring into adulthood (now 30 years old). We use the nearly 3 decades of data available for each study participant, and recruitment of generation 3 (the grandoffspring of the original mothers), to gain a better understanding of the long-term and intergenerational impacts of early life environments on adult biology, life history, reproduction, and health. A theme of much of my work is the application of principles of developmental plasticity and evolutionary biology to issues of health. I am a member of the National Academy of Sciences and American Academy of Arts and Sciences.
Other projects focus on the psychobiology of social relationships and fatherhood, genetics and molecular biology, the evolution of the human brain and evolutionary medicine. See Projects and Publications pages for more.
Current projects and collaborations
The developmental origins of adult health and biology in the Philippines
Male reproduction ecology and the psychobiology of fatherhood
The evolution and developmental energetics of the human brain
The role of the placenta in intergenerational effects of nutrition
Comparative great ape lactation and infant rearing
Epigenetics, the race concept and the embodiment of health disparities
The historical synthesis of developmental and evolutionary biology
Consortium of Health-Oriented Research in Transitioning Societies (COHORTS)
Recent research highlights (pubs page has full list of pdfs):
Eisenberg DTA, Kuzawa CW (2013), "Commentary: The evolutionary biology of the paternal age effect on telomere length" Int J Epidemiol 42(2):462-5.
Kuzawa CW, Adair LS, Borja J, McDade TW (2013), "C-reactive protein by pregnancy and lactational status among Filipino young adult women" Am J Hum Biol 25(1):131-4
Kuzawa CW, Bragg JM (2012), "Plasticity in human life history strategy: Implications for contemporary human variation and the evolution of genus Homo" Current Anthropology, 53(Suppl. 6), s369-s382.
Miller DJ, Duka T, Stimpson CD, Schapiro SJ, Baze WB, McArthur MJ, Fobbs AJ, Wildman ED, Lipovich L, Kuzawa CW, Hof PR, Sherwood CC (2012), "Evolution of prolonged myelin growth in the cerebral cortex of humans compared to chimpanzees" Proceedings of the National Academy of Sciences, 109(41):10251-6.
van Noordwijk MA, Willems EP, Atmoko SSU, Kuzawa CW, van Schaik CP, "Multi-year lactation and its consequences in Bornean orangutans (Pongo pygmaeus wurmbii)" Behav Ecol Sociobiol 67(5): 805-814.
Alcock J, Franklin ML, Kuzawa CW (2012), "Nutrient signaling: the evolutionary origins of the immune modulating effects of dietary fat" Quarterly Review Biology, 87(3):187-223
Eisenberg DTAE, Hayes, MG, Kuzawa CW (2012), "Evidence that delaying paternal age of reproduction in humans lengthens telomeres across two generations of descendants" Proc Nat Academy of Sciences, 109(26): 10251-6. 
Kuzawa CW (2012), Why evolution needs development, and medicine needs evolution. Int'l J Epidemiology. 41:223-229.
Gettler, LT, McDade TW, Feranil AB, Kuzawa CW (2011), Longitudinal evidence that fatherhood decreases testosterone in human males. Proc Nat Acad of Sci. Supporting information. **see coverage of our fatherhood testosterone story in the New York Times and hear an interview on the BBC World Service. Here is a nicely done television report from Channel 4 (UK). We also discuss the study's findings and implications in more detail on a Guest Blog on the Scientific American blog network.
Kuzawa CW, Thayer Z (2011), The timescales of human adaptation: The role of epigenetic processes Epigenomics. 3(2)221-234.
Kuzawa CW, Sweet E (2009), "Epigenetics and the embodiment of race: developmental origins of US racial disparities in cardiovascular health". Amer J Hum Biol. 21(1): 2-15.
Dr. Kuzawa is a Fellow at the Institute for Policy Research and a founding member of Cells 2 Society, Northwestern's interdisciplinary center for the study of health disparities.