Abby Kisicki
Research Study Coordinator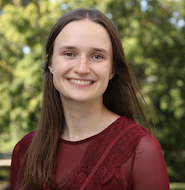 RESEARCH INTERESTS
Abby is the Research Coordinator for the Horton Research Group led by Dr. Teresa Horton. She received her B.S. in Statistics and Community and Environmental Sociology at the University of Wisconsin-Madison. During her time at UW-Madison, she led a study on behavioral healthcare providers' experiences transitioning to tele-healthcare during the COVID-19 pandemic. She has also assisted with studies on clinical researchers' attitudes surrounding recruitment of underrepresented participants, facilitators and barriers to providers' utilization of medications to treat opioid use disorder (MOUDs), and behavioral healthcare providers' utilization of and needs pertaining to technical assistance (TA) during the COVID-19 pandemic. 
SELECTED PUBLICATIONS
Abby Kisicki, Sarah Becker, Michael Chaple, David H. Gustafson, Bryan J. Hartzler, Nora Jacobson, Ann A. Murphy, Stephanie Tapscott, Todd Molfenter. Jun 13, 2022. "Behavioral healthcare providers' experiences related to use of telehealth as a result of the COVID-19 pandemic: an exploratory study." BMC Health Services Research.

Susan R. Passmore, Abby Kisicki, Andrea Gilmore-Bykovskyi, Gina Green-Harris, Dorothy Edwards. Nov 11, 2021. "'There's Not Much We Can Do...' Researcher-level Barriers to the Inclusion of Underrepresented Participants in Translational Research." Journal of Clinical and Translational Science.

Todd Molfenter, Sara Becker, Abby Kisicki, Michael Chaple, Thomas E. Freese, Heather Gotham, Rachelle Greller, Holly Hagle, Maxine Henry, Laurie Krom, Rosemarie Martin, Kristen Powell, Nancy Roget, Isa I. Velez-Echevarria, Ruth Yáñez. Aug 19, 2021. "Providing Behavioral Workforce Development Technical Assistance during COVID-19: Adjustments and Needs." Translational Behavioral Medicine.

Todd Molfenter, Hanna Kim, Nora Jacobson, Abby Kisicki, Hannah K. Knudsen, Julie Horst, Randy Brown, Lynn Madden, Alex Toy, Eric Haram, Jee-Seon Kim. Oct 5, 2022. "Enhancing Utilization of Medications for Opioid Use Disorder (OUD): Findings from a randomized implementation trial to increase use of buprenorphine and injectable naltrexone." Psychiatric Services.